I know I've mentioned my adoration for tea before. Recently I hosted a small "tea", with friends. It's not that hard or complicated, really. This one was New Year's themed but you can do with out a theme if you like. You can host for one or many. The choice is yours. The main focus should be creating a warm, inviting and relaxing atmosphere. One that invites conversation and doesn't feel rushed.
Hosting tea can be as elaborate or simple as you like. I have my table covered with a cheap cream colored table cloth and over that I have about a yard or two of *nicer* fabric thrown over that. It's reversible red and gold. I had the red side up for Christmas and then flipped it over to the gold side for the tea. I had also printed out some free New year's printables I found online, to add a bit of a decorative touch, but that is not necessary. A candle or two can add a nice simple touch. The tea cups do not need to be a matching set either. It adds more interest and color options if they don't match. You can find tea cups all the time at the thrift store.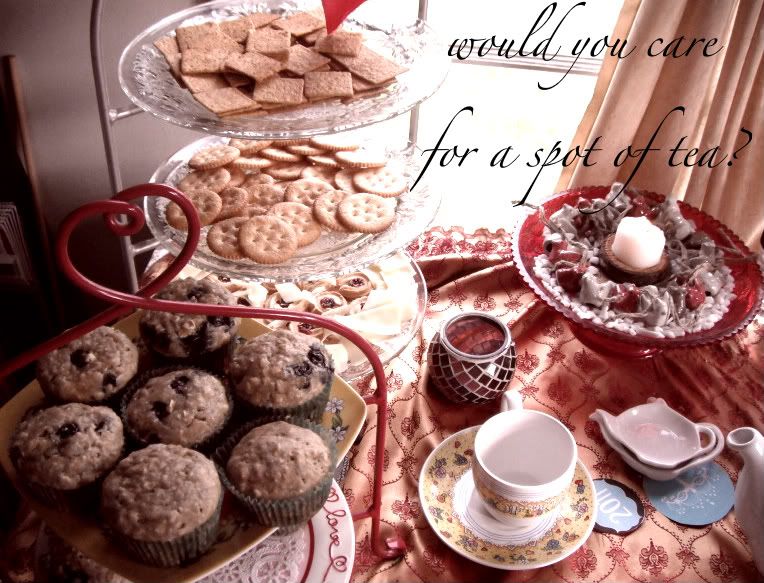 The menu does not have to be elaborate or fancy. You can see here I set out some cheese and crackers on tiered racks. I made some of
my favorite blueberry muffins
. On the bottom of the 3 tiered rack, in the back, there are shortbread cookies I bought last minute. I absolutely LOVE them, they are my weakness and you can get a bag of them for about $1 from the grocery. It was an impulse purchase for sure.
If you wanted to provide something more hearty you could make tea sandwiches. Cream cheese with cucumber and tomato slices, tuna with apples, avocado with bacon pieces, for a few ideas. Bread can be cut into decorative shapes or simple triangles. Finger fruit, like grapes, would be an excellent addition.
If you are using a real ceramic/china? tea pot, be sure to 'warm it up' before you transfer the boiling water into it. Pour a little bit of very warm water from the tap into the teapot and swish it around. Ideally the tea pot should feel warm from the outside. Once it is warm, it should be safe to pour the hot water into it. If your tea pot is not warmed, it could crack once the hot water is poured into it. That would be a shame, wouldn't it?
Of course I provided a wide variety of teas to choose from but even one type is fine. The fellowship will be what really matters, between friends.
Any time, is a lovely time for tea.
English accent, optional.