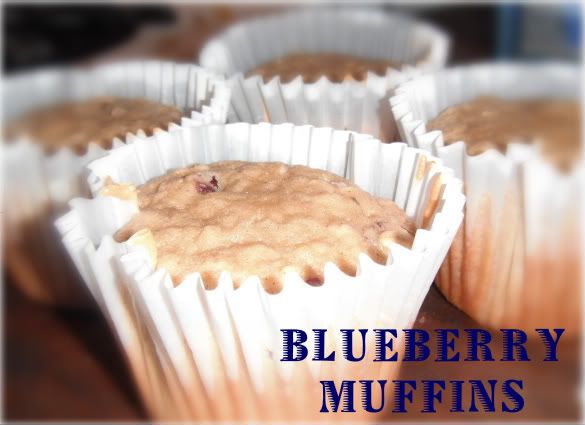 I *almost* know this recipe by heart, that is how often I make it. It's a base recipe and each ingredient can be substituted using various options to create completely different muffin combinations. Most often though, I make blueberry and they never last very long in our home.
Ingredient list
3 cups flour
2 cups oats
2 cups milk
2 eggs
1 cup brown sugar (I didn't pack it, but you can if you want)
4 tsp baking powder
1/2 cup butter (1 stick)
1 cup blueberries (although I never measure, I just pour them in--& I use frozen)
*capful vanilla
*tsp cinnamon
*tsp nutmeg (I use it in everything!)
*optional ingredients & I don't really measure, just sprinkle in the mix, but that is a safe guesstimate. ;-)
Preheat oven to 400
put out butter so it can soften or melt
Mix together all the ingredients.
Pour about 1/4-1/3 cup in each muffin tin
Sprinkle a bit of brown sugar & cinnamon on top of each muffin (optional)
Bake for about 15-20 minutes (ovens vary--my antique stove always cooks longer)
Voila'!
Perfect for breakfast, snack or tea time.
What a lovely way to start (or end) the day.