Inspired by these
delicious goodies
, I did some baking last night. I based my recipe on hers but I did not have all the exact ingredients so I did a few changes. They were still incredibly delicioso! You can follow her recipe or mine, either way--I don't think you can go wrong. They are super easy to make too.
Mine had a more brownie-ish texture and needed to bake longer. I have a vintage Okeefe & Merritt stove, so that may be why, I'm not sure. I regularly have to bake things at least 5-10 minutes longer than recommended.
The asterisks indicate my changes.
Brownie Textured Ginger Strips
3/4 cup butter (1.5 sticks)
1 cup packed *brown sugar
1 egg
1/4 cup molasses
2 tsp baking soda
1/2 tsp salt
1/2 tsp cinnamon
1/2 tsp *ginger (I grated fresh ginger, maybe 1 tsp)
2 1/2 cups *mixed whole wheat & white flour (they were already mixed in my container but probably half & half)
Beat egg, butter & sugar together. (it will be helpful to soften the butter first-which I did not & it took longer to mix it) Add remaining ingredients.
The dough won't look like much, but trust me, it will expand while baking. Separate dough into two sections. Shape each section into a log and then flatten. I lined my long rectangular baking stone with parchment paper & shaped the dough directly on it. Brush each log lightly with water and sprinkle with sugar. I used *raw sugar. It is bigger and chunkier and actually looked nice.
Once removed from oven, allow to cool slightly, then cut into strips.
I baked at 350 for about 30 minutes.
If you read her recipe--that is significantly longer. Please be mindful of your own oven temperament.
The ends were slightly crunchier but over all, the bars I made had a chewy consistency. Everyone loved them. I think the few changes I made make them slightly healthier too. I wasn't trying to make them healthier--it just happened to be the ingredients I had on hand.
Enjoy!
Christmas treats are some of the loveliest treats, aren't they?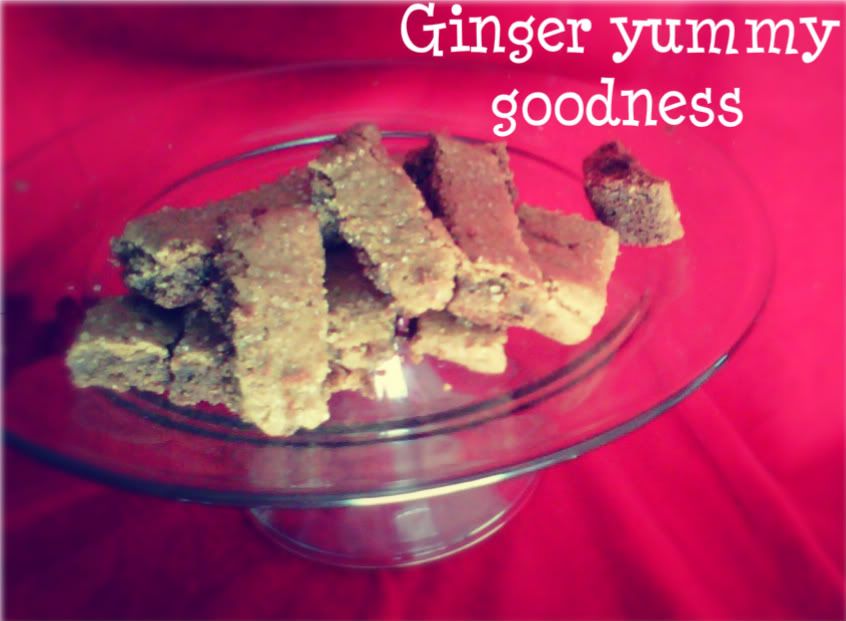 This post linked to:
Not Just a Housewife